Centre for the Study of the Sociology and Aesthetics of Music (CESEM)
CESEM is a research unit devoted to the study of music and its correlation with other arts, culture and society, incorporating various approaches and making use of the latest perspectives and methodologies in Social and Human Sciences.
These are the general purposes of CESEM:
Create a suitable environment for teamwork, organized to tackle the identified scientific needs and priorities;
Support the research interests of its members and their participation in international professional venues, and the publication of the research results;
Promote new collaborative research projects that deepen the knowledge and dissemination of Portuguese, Iberian and Latin American themes;
Create new research tools, applications, and databases, allowing the international academic community to study local repertoires and other little explored objects as well as promoting the role of Music in contemporary Portuguese life;
Foster a renewed atmosphere of research and debate, bringing its members together in a dynamic musicological community capable of maintaining excellence in postgraduate studies in Music.
CESEM does not privilege, benefit, prejudice or deprive of any right, nor exempts from any duty any members and collaborators based on their heritage, age, gender, sexual orientation, marital status, family circumstances, economical status, level of education, ethnic origin or social condition, genetic heritage, limited capacity – handicap, chronic disease – nationality, spoken language, religion, political and ideological convictions or union membership.
Research Groups
Education and Human Development
Studies of Ancient Music
Contemporary Music
Music in the Modern Period
Critical Theory and Communication
Thematic lines
Therapeutic Effects of Music
Luso-Brazilian Studies
Opera Studies
Musical Iconography
Music and Literature
Palaeography and Music Editing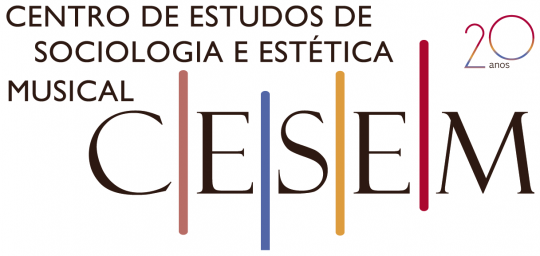 Coordinator(s)
President: Paulo Ferreira de Castro Executive Director: Luísa Cymbron Executive Secretary: Ana Isabel Pereira 1st Efective Member: Ivan Moody 2nd Efective Member: Elsa de Luca 1st Substitute Member: Paula Gomes Ribeiro 2nd Substitute Member: Isabel Pires
Members
87 integrated members
Last Evaluation FCT
Excellent
Address
CESEM Edifício I&D Av. de Berna, 26 – 3º 1069-061 LISBOA PORTUGAL
Email
cesem@fcsh.unl.pt
Phone
217 908 300 | 217 908 301
Website
Centre for the Study of the Sociology and Aesthetics of Music (CESEM)
Science Manager(s)
Communication Management(Cristiana Vicente) – 918832027 Financial management (Vera Inácio Cordeniz) - 918832020
Secretariat
cesem@fcsh.unl.pt