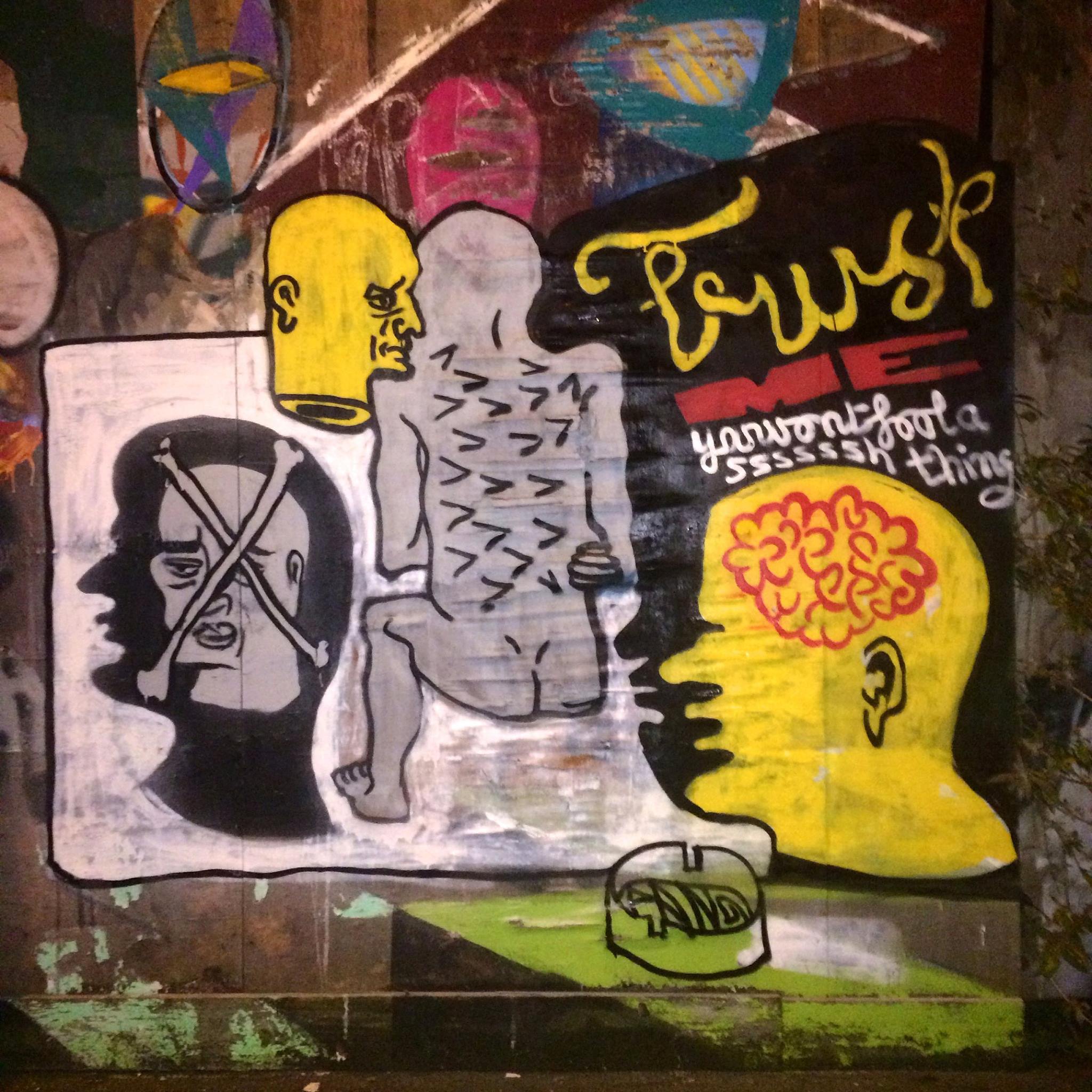 © PANG, "Hackney Wick" (Courtesy of the Artist)
«Mirror, mirror on the screen»: Retelling Fairy Tales with Biosignals and New Media Arts
Horário:
6 e 7 de setembro das 09h30 às 13h00 e das 14h00 às 17h30 | 8 de setembro das 10h30 às 13h00 e das 14h00 às 16h30 | 9 de setembro das 10h00 às 13h00 e das 14h00 às 17h00
Área:
Línguas, Literaturas e Culturas
Docente responsável:
Sara Graça da Silva
Docente:
Alba Morollón Díaz-Faes
Docente:
Hugo Plácido da Silva
Acreditação pelo CCPFC:
Não
 Face to face classes
Face to face classes (

If it is allowed

)
Goals
____
Representative of an interdisciplinary approach on art-science-technology, this course aims to promote dialogue between the affective potential of new media arts and the measurement of morality and emotionality in fairy tales informed by the use of biosignals in Psychology (namely, psychological and physiological responses towards the arts). Combining a critical theoretical perspective and a strong practical component of experimentation, students will be invited to collaboratively 'retell' some of the traditional Grimm tales, by exploring through new media arts a series of elements considered fundamental in both 'worlds' – such as doors (interfaces, gateways), mirrors (screens), or paths, with the ultimate objective of conceiving and/or designing an artistic prototype for a future installation/exhibition.
Programme
____
MODULE (M) 1.1 «Did they really live happily ever after?» An interdisciplinary reading of Grimm's Fairy Tales [3,5 hours]
This module focuses on the theoretical and historical context of the Brothers Grimm and their collection of Fairy Tales, known as Children and Household Tales (1857). Drawing from an interdisciplinary approach combining different fields of research (for instance, Fairy Tales Studies and Queer Studies), students will have the opportunity to be confronted with alternative approaches to this literary genre.
M 1.2 «Once upon a Time there was Punishment (and sometimes Reward).» Morality and Emotionality in Fairy Tales [3,5 hours]
Through a discussion of multidisciplinary perspectives on the concepts of emotion and morality, this module intends to promote and develop critical and interpretive thinking skills regarding this symbiosis, as well as a greater awareness of notions of identity and selfhood, demonstrating how different layers of humanity and interaction affect and define us.
M 2.1 «Following the Pebbles.» A Psychological overview of Morality and Emotionality in the Arts [3,5 hours]
With this module, students will be able to get in touch with the state of the art regarding measurement and monitorization of biosignals, namely research conducted in the field of social and moral psychology, but also aesthetics studies in museums using psychophysiological methods. Students will learn how facial expressions (e.g., 3 facial electromyography) and emotional arousal (e.g., electrodermal conductance) can be measured while individuals appreciate art.
M 2.2 «Keep following the Pebbles.» Measuring Morality and Emotionality with Biosignals [3,5 hours]
In this module, space will be opened to live demonstration and discussion on the use of technological equipment for measuring and monitoring psychophysiological stimuli, such as Eye-tracking, Electrodermal Activity (EDA), Heart Activity (ECG) and Electromyography (EMG). A special emphasis will be placed on activities related with fairy tales and their conveyed morality/emotionality.
M 3.1 «Mirror, mirror on the screen». An interdisciplinary approach to (e)motion in New Media Arts [2,5 +2,5 hours]
This module will focus on providing students with a series of different artistic stimuli drawing from (1) the use of fairy tales and related themes by new media artists; (2) the use of biosignals in new media arts; (3) the use of simple programming environments (like Processing) by artists. Combined, these three approaches will enable students to address the new expressive languages of the digital environment, while at the same time providing them theoretical ground to justify their interdisciplinary exploration of the art-science-technology axis.
M 3.2 «The End.» Conceiving and/or Designing an Experimental Prototype for an Artistic Installation/Exhibition [3 + 3 hours]
This final module is intended to give room for the practical application of knowledge acquired across all the previous modules. Working on a final project presentation, students will be invited to present, in a collaborative environment, their exploratory ideas and/or experimental prototypes on the relationships between fairy tales, new media arts, and biosignals.
Bibliography
____
Grimm, Jacob and Wilhelm (1857). Kinder- und Hausmärchen, 7th ed. Translated by D. L. Ashliman (2001-2006). Göttingen: Verlag der Dieterichschen Buchhandlung.
Zipes, J. (2012). Fairy tales and the art of subversion. London: Routledge.
Graça da Silva, S. (ed.) (2018). New Interdisciplinary landscapes in Morality and Emotion. London and New York: Routledge.
Ward, Jamie (2016). The student's guide to social neuroscience. Psychology Press.
Montfort, N. (2021). Exploratory programming for the arts and humanities. Cambridge, MA: MIT Press.
Prerequisites
____
Working language: English. Students should bring their own laptops.
Main target area: Arts and Humanities (not mandatory). MA and PhD students, as well as postdoc researchers, with strong motivation to work at the intersections of art-science-technology.
Teamwork skills are a special requirement, as this course relies on collaborative practices and methods. No previous knowledge of any kind of programming language is required. 
Students will have at their disposal an expert in biosignals measurement technologies, such as eye-tracking and EMG. Previous knowledge of these technologies is not required. While the inclusion of biosignals' measurements can be used in the development of an artistic prototype, its use is not mandatory.
Short bio (100 words) and a motivation letter detailing the student's background and intended outcomes for the course (max. 250 words), strongly recommended.
Tuitions  fees
____
For more details see table in informações úteis.
Teachers
____
Alba Morollón Díaz-Faes holds a PhD in English literature from the University of Oslo, with a thesis titled "Fairy LGBTales: Mapping Queer Retellings from the 1990s to the 2010s" (2019). She also holds a Master's degree in Contemporary Literature in English from the University of Edinburgh. Her research interests centre on fairy tales, queer studies, cultural studies and contemporary literature. She is currently a post-doctoral researcher at IELT, focusing on fairy tales and digital humanities for the European project "VAST: Values Across Space and Time". [Modules 1.1 and 1.2]
Carla Murteira is a Postdoctoral Researcher at NOVA | FCSH within the EU-funded project VAST Project: Values Across Space and Time, and an Invited Assistant Professor at Escola Superior de Comunicação Social – Polytechnic of Lisbon. She obtained a Master's degree in Experimental Psychology (2010, University of Minho) and a Masters' degree in Statistics and Information Management (2015, University Nova de Lisboa). She holds a PhD in Social Psychology (2020, ISCTE-IUL & Goldsmiths – University of London) with studies about emotional facial mimicry in intergroup relations. Her main research interests are related to emotions, social networks, feed behavior, and marketing research and advertising. [Modules 2.1 and 2.2]
Diogo Marques is a Ph.D. in Materialities of Literature (2018, Faculty of Arts and Humanities, UC). He is currently a Postdoc researcher at NOVAFCSH, Institute for the Study of Literature and Tradition (IELT), within the EU-funded project VAST Project_Values Across Space and Time. In the past five years, he co-curated several new media art exhibitions, such as BioArt Exhibition Sentient States: Bio-mind and Techno-Nature (2019, Porto, School of Arts, UCP) and Electronic Literature Exhibition Affiliations, Communities, Translations (ELO'17, Porto, Mosteiro de São Bento da Vitória). In 2020, he co-edited a volume of essays in Art-Science and Technology: Investigação-Experimentação-Criação: em Arte-Ciência-Tecnologia (Porto: UFP Press). He is an experimental artist and cofounder of cyberliterary collective wr3ad1ng d1g1t5 with artworks exhibited at File 2017, ELO 2017, ARTeFACTo 2018 and ELO 2021. He is a member of Electronic Literature Organization. [Modules 3.3 and 3.4]
Hugo Plácido da Silva is a Ph.D. in electrical and computer engineering from IST-UL. He has been a researcher at IT since 2004 and a professor at IST-UL since 2019. He is also an award-winning inventor, researcher, and entrepreneur, having co-founded multiple technology-based companies in the field of biomedical engineering. HS is an expert in biosignal research and affective computing and the ways in which humans recognise, interpret and simulate emotional states. He has participated in more than 35 national and European projects, funded by H2020, EU-FP7, QREN/NSRF, FCT, among others. His current interests include biosignal acquisition, biomedical instrumentation, system engineering, signal processing, and machine learning, areas in which he holds 7 patents and has performed pioneering theoretical, methodological, and technical contributions. [Module 2.2]
Sara Graça da Silva, PhD, is a Research Fellow at the Institute for the Study of Literature and Tradition, NOVA | FCSH, Portugal. Her research interests include the intersection between literature and science, gender, morality, emotion, and the evolutionary study of literature. She has contributed to The Victorian Literature Handbook, The Dictionary of Nineteenth Century Journalism, National Geographic, among others, and published in journals including Utopian Studies, Royal Society Open Science, and Proceedings of the National Academy of Sciences. She has edited three books on the symbiosis between morality and emotion, with Routledge (2016, 2018), and Palgrave Macmillan (2021), and coordinates the Portuguese team of the H2020 project VASTValues across Time and Space, responsible for Pilot 3 – Values in European Folktales, since 2020. [Modules 1.1 and 1.2]
Invited Speaker/Artist: Bruna Sousa completed her Degree and Master's in Design and Multimedia at the Faculty of Science and Technology of the University of Coimbra (FCTUC), where she is currently a professor in those courses. She is a PhD student in Contemporary Art at the College of Arts of the University of Coimbra, being a researcher at the Center for Informatics and Systems of the University of Coimbra (CISUC), where she develops a research entitled "Adaptive Design Through Participatory Interaction" funded by FCT. Fuelled by curiosity and creativity, her work combines areas such as psychology and neurosciences with graphic and interactive design to create effective and affective visual communication. Her research covers areas such as design and computer art, where she explores different approaches in typography, graphic design and motion design, whether interactive, participatory or adaptive.