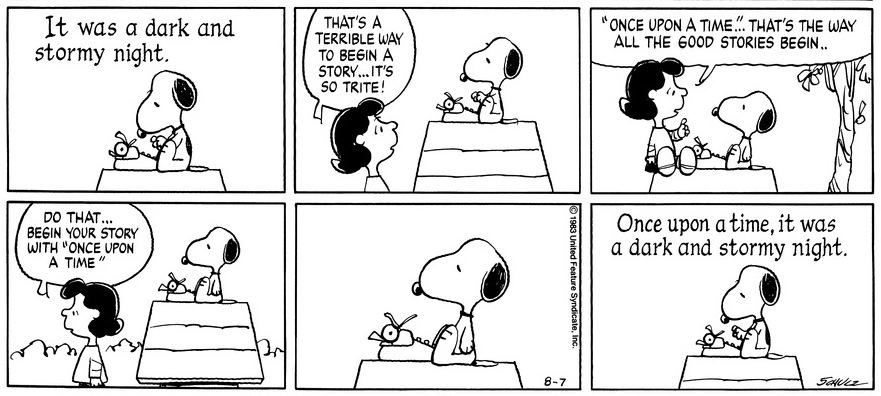 Photo credit: Peanuts Worldwide LLC
Academic Writing: An Essential Skill to Survive in Academia. Beginners
Docente responsável:
Elsa De Luca
Acreditação pelo CCPFC:
Não
e-learning
This course wil be taught on-line
Goals
____
This course aims to provide the essential training for academic writing in English to international students with little or no experience. The aim of this course is to empower students by providing them with the essential knowledge on grammar rules and conventions concerning academic writing in English and discuss how to choose the most appropriate style of writing. The teaching method is entirely based on practice exercises. In other words, students will learn by doing. After a concise explanation of the topic, students will be given a practice exercise which will be subsequently commented together in the classroom so that they can immediately receive the necessary feedback.
Programme
____
This course requires the active participation of the attendees, there will be exercises, tests and plenty of space for discussion. On day 1 we introduce the writing process from the point of view of international students. Firstly, we present the elements of writing: choosing suitable sources, reading and note-making, referencing and proofreading. On day 2, 3 and 4 we cover the grammar rules and writing techniques relevant for academic writing. Topics include:
How to write using more formal language (employing an impersonal and cautious style);
Nouns: countable, uncountable, proper;
Articles;
Formal vocabulary: nouns and adjectives; verbs and adverbs;
Singular or plural?
Common synonyms in academic writing;
Using passive voice judiciously;
Punctuation;
Numbers and numerical phrases;
Time markers;
Abbreviations in writing;
Capitalization rules;
Acknowledging your sources and avoiding plagiarism;
Summarising and paraphrasing;
Writing parallelism;
Making notes.
On day 5 we further discuss vocabulary and style, and test the students' progress with a final test. We cover the main differences between British and American English (spelling, meaning of words relevant to academic writing) and outline the basic rules for writing formal letters and emails. Finally, students will be provided with some model case-studies where they can identify the features, elements and techniques discussed over the course.
Bibliography
____
Bailey, Stephen, Academic Writing. A Handbook for International Students, Routledge; third edition (2011).
Wayne C. Booth, Gregory G. Colomb, Joseph M. Williams, Joseph Bizup and William T. Fitzgerald, The Craft of Research,  University of Chicago Press; fourth edition (2016).
Kate L. Turabian, A Manual for Writers of Research Papers, Theses, and Dissertations, University of Chicago Press; eighth edition (2013).
Tuitions  fees
____
For more details see table in informações úteis
Teachers
____
Elsa De Luca is Researcher at CESEM – NOVA FCSH University of Lisbon, where she is currently pursuing palaeographical research into Iberian medieval notation. In addition, Elsa is co-director of the book series Musicalia Antiquitatis & Medii Aevi, published by Brepols; she is Administrative Chair and member of the Board of the Music Encoding Initiative and Coordinator of the Portuguese Early Music Database. Elsa De Luca holds a PhD in Historical Musicology (Università del Salento, 2011) and a Piano Diploma (2002). She has published articles on the notation, cryptography, and liturgy in Iberian manuscripts (10th – 16th cent.), and on the music and liturgy in some French manuscripts (13th – 14th cent.). Elsa has collaborated in international research projects in Italy, France, Portugal, the UK, and Canada.