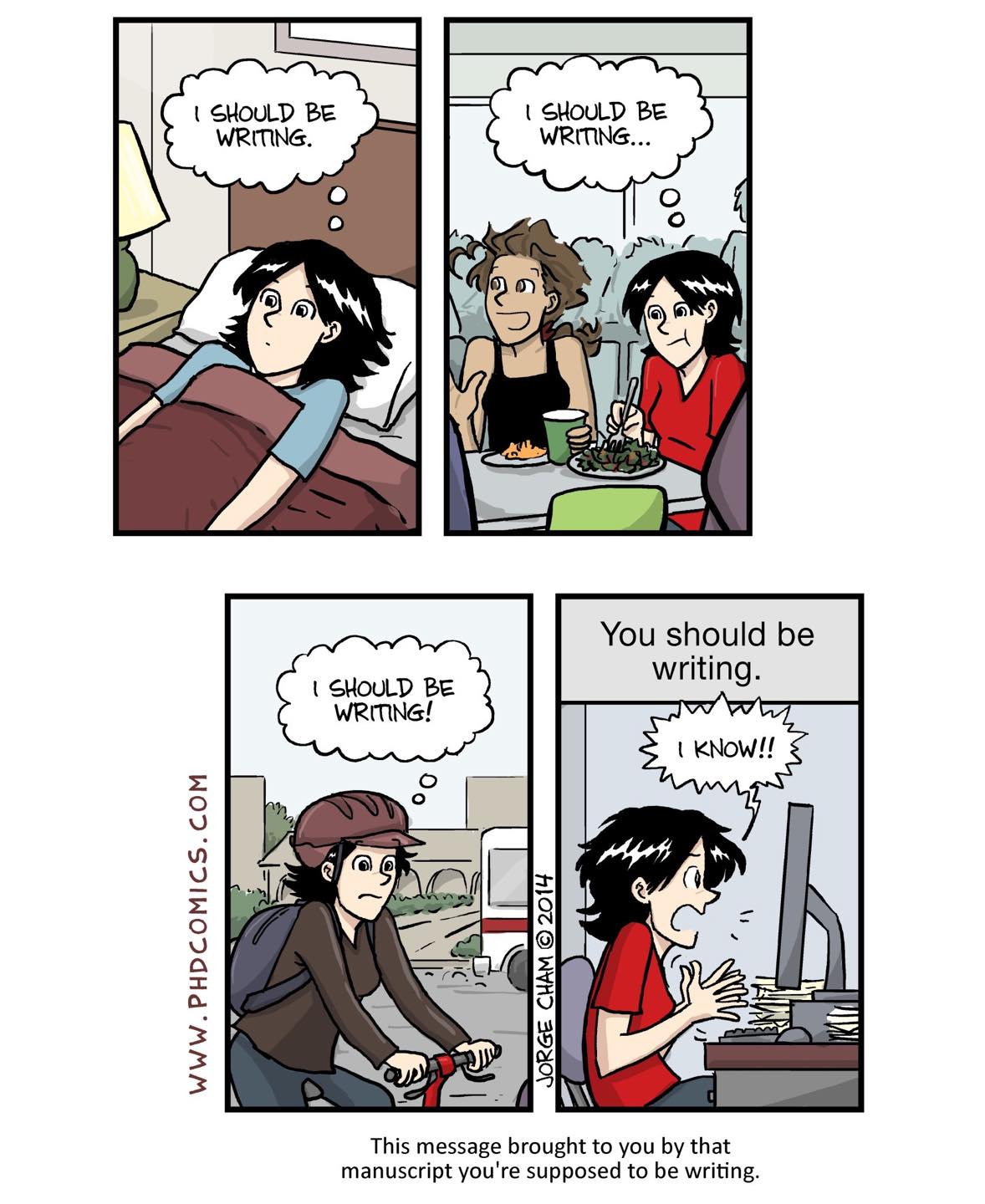 Photo credit: @ Piled Higher and Deeper Publishing, LLC. Dreamhosted
Academic Writing: An Essential Skill to Survive in Academia. Advanced
Docente responsável:
Elsa De Luca
Acreditação pelo CCPFC:
Sim - "Foi pedida a Acreditação ao CCPFC – Aguarda Despacho"
e-learning
This course wil be taught on-line
Goals
____
'Publish or perish' is a well-known say that gives a sense of the kind of expectations researchers should meet to survive in academia. This course provides the essential knowledge and training for academic writing in English. It is specifically targeted to scholars with some experience in academic writing who may have incurred in roadblocks or tend to procrastinate writing. Young writers who wish to be equipped with specific knowledge on the craft of academic writing could also benefit from it. Over the course of five days, we will discuss in detail the whole process of academic writing and break it down into sections. Laying out each section into smaller and more manageable tasks greatly increases the possibility of successful writing.
Programme
____
A clear and engaging academic writing is essential to convey ideas, share thoughts and participate in the scholarly debate. This course provides a methodological frame for academic writing and it requires the active participation of the attendees. The teaching method consists of explanation of the writing technique followed by writing practice. Students will be requested to  perform each step of the academic writing process in the classroom. The goal is to practice the various writing skills, not to produce authentic academic papers. Indeed, students will be allowed to make up datas and research in order to practice writing. The writing papers produced will be thoroughly discussed and commented; this step is essential because it helps writers to become more familiar with the peer review process and learn how to overcome the pain which is sometimes associated with it. Instead, writers can learn how to benefit from the anonymous feedback and produce better papers. We will discuss the writing habits of successful academics and provide tips to become more skillful writers and overcome any writer's block.
The course begins with an introduction on academic writing (formal, impersonal and cautious style). We outline the importance of finding an original research question and to provide a sound, reliable and convincing answer that can be beneficial to the scholarly community and effectively advance knowledge. The introduction includes a reflection on the reader's expectations and consider the importance of engaging the audience. Subsequently, we tackle each of the sections that constitues the process of academic writing and discuss possible ways to organize the research plan (plan your paper, organize ideas, evaluate information, write a first draft and receive some feedback). The following items will be thoroughly discussed and practiced:
State your research question and working hypothesis;
Search for evidence: consult primary and secondary sources. Should you take notes or leave it for later? Write as you read!
Record your sources fully, accurately and appropriately: determine your citation style and record bibliographic data;
Basic outline of your first draft: choosing and ordering points; breaking sections into smaller parts;
How to structure a paragraph: communicate complex ideas in a way that makes them least likely to be challenged;
Logical organisation of your argument: clearly report your reasoning to readers;
Responding to others' arguments;
Writing the conclusion;
Revising. Editing. Proofreading.
Attending this course will allow you to see academic writing as a skill that can be learned and refined over time. It will also help you to detach from any emotional block you may have experienced in the past and reframe academic writing under a new light. Eventually, producing a written piece of research will consist of just a series of small tasks that can be worked out one step at a time.
Bibliography
____
Wayne C. Booth, Gregory G. Colomb, Joseph M. Williams, Joseph Bizup and William T. Fitzgerald, The Craft of Research, University of Chicago Press; fourth edition (2016).
Helen Sword, With Air & Light & Time & Space: How Successful Academics Write, Harvard University Press (2017).
Kate L. Turabian, A Manual for Writers of Research Papers, Theses, and Dissertations, University of Chicago Press; eighth edition (2013).
Tuitions  fees
____
For more details see table in informações úteis
Teachers
____
Elsa De Luca is Researcher at CESEM – NOVA FCSH University of Lisbon, where she is currently pursuing palaeographical research into Iberian medieval notation. In addition, Elsa is co-director of the book series Musicalia Antiquitatis & Medii Aevi, published by Brepols; she is Administrative Chair and member of the Board of the Music Encoding Initiative and Coordinator of the Portuguese Early Music Database. Elsa De Luca holds a PhD in Historical Musicology (Università del Salento, 2011) and a Piano Diploma (2002). She has published articles on the notation, cryptography, and liturgy in Iberian manuscripts (10th – 16th cent.), and on the music and liturgy in some French manuscripts (13th – 14th cent.). Elsa has collaborated in international research projects in Italy, France, Portugal, the UK, and Canada.